In progress–renovations to Rouss City Hall, built in 1901. Located in Winchester's historic district, this building has a lot of history and now more opportunity to show it off!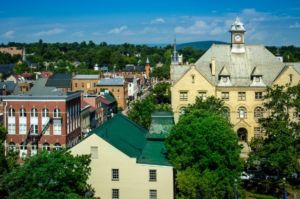 Aerial view of Rouss City Hall, nestled in the center of historic downtown Winchester.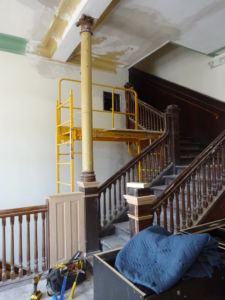 A fun discovery: these historic stairs and column were previously encased in gypsum wallboard walls constructed in a 1986 renovation.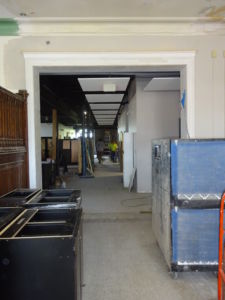 This was the old theater entrance. It's becoming the future offices of the Winchester Department of Planning and Zoning.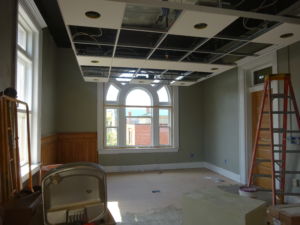 The former theater ticket/coat room is being renovated into a conference room. Floating acoustic ceiling grids pulled back from the walls, hide the electrical wiring and mechanical ducts while leaving the historic windows fully intact and exposed.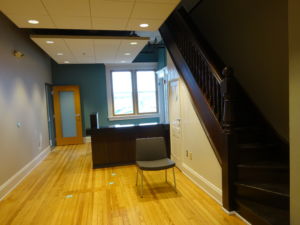 Newly finished reception area for the City Manager. Historic wood stairs go up to the attic.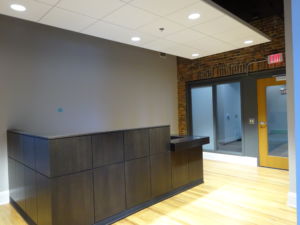 Newly finished reception desk for the Finance Department.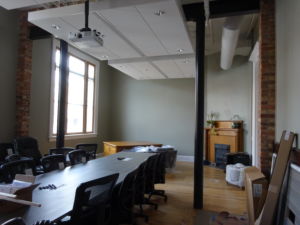 Conference room for the Mayor and City Council, featuring acoustic ceiling panel "cloud" and the original corner fireplace.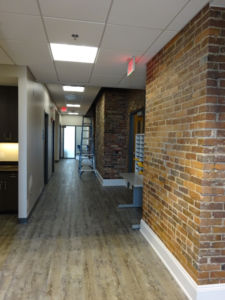 Beautiful exposed brick lines the 4th-floor hallway.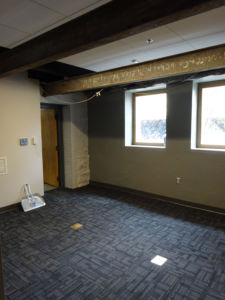 Newly exposed steel I beams (with original handwriting describing where they should be delivered) run the span of the HR conference room.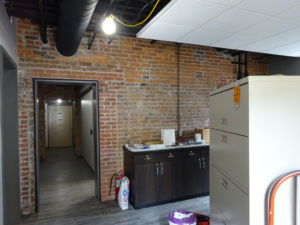 New reception room for HR.