Beth's Home From The Hospital!
April 15th, 2011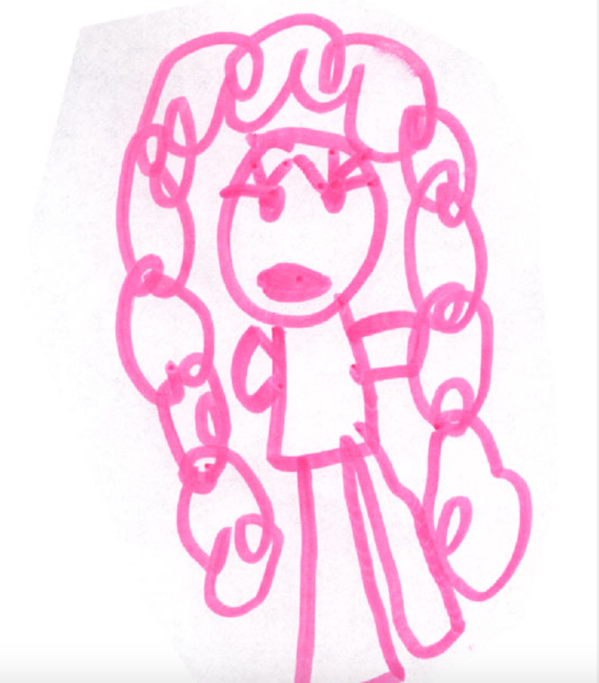 Ella's drawing of her mother when Ella was 7 years old.
Happy Friday, Everyone!
Before the weekend rolls around, I wanted to let everyone know that I went home from the hospital this past Wednesday afternoon. Of course, the Winchester Medical Center was great, and the amazing staff there certainly saved my life, but nothing can compare to being back home again. In the mornings, I go upstairs and purposely take the time to sit and look out at the mountains. It's amazing to see all of the vivid spring green colors. My doctors and nurses all told me to "take time to stop and smell the roses" once I went back to Life Among the Living, and, believe me, I'm taking their advice to heart.
As for my recovery, the doctors expect it to be complete, with no damage to my lungs. I need to wear this "fashionable" little fanny pack for five more days. In the fanny pack is a little, cassette- sized pump, which delivers a continuous, IV infusion of penicillin into my upper arm, close to my heart. No big deal!
Thank you all, so very much, for all of the love, emotional support, thoughts, prayers, food, and kindness that you extended to me, my family, and our amazing colleagues (Kevin, Joel, Nathan, and Laura) during my very scary and life- threatening illness. It meant so much to us all. Thank you.
Have a great weekend, everyone!
With very deep gratitude,
Beth