Reader & Swartz: "Captains of Industry"
Lucky Friday the 13th of May, 2011
Three of our projects, Songbird Lane, Das Swartzenreader Haus, and Loft Upon Cork, were featured in the most recent Architecture Leaders Today magazine. Online access to the Architecture Leaders Today article can be found by following this link.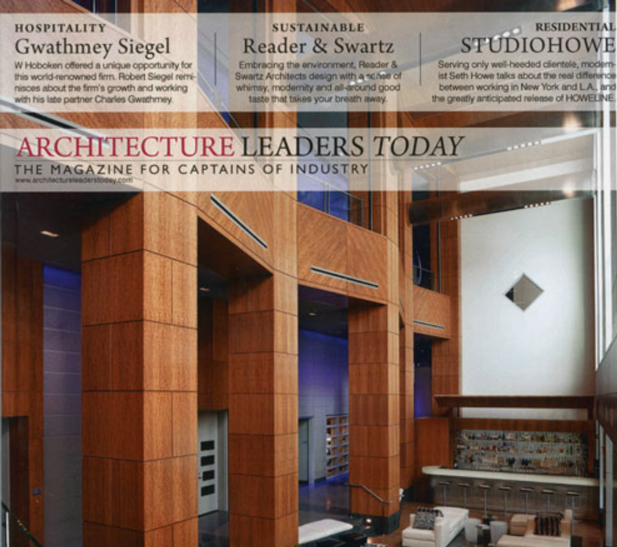 Architecture Leaders Today; Spring 2011, Volume 2
Big in the DMV (current hip hop lingo for DC/MD/VA)
Our office was also featured in another publication, showcasing the region's top design firms. Our spread is on page 226-227, and can be seen online here.
Big man on campus
The Shenandoah Conservatory Arts Academy's 2011 SCAA summer arts series, Community Works! features a summer program taught by someone you might know. Chuck Swartz, who, according to his bio, is "generally regarded as being enthusiastic and entertaining," will head up a "cross-genre arts" workshop entitled "Cool Building! How did that happen?" July 25-29, for students ages 15-18. Participants will look at how architects work, the design process, and the media that architects use to create buildings. The camp will include work on design sketch problems in which students will create plans for hypothetical clients. If you know someone who may be interested, they can find more information at this link, or go ahead and register online right here or call 540-665-4602.
Staff update
As you can tell from the last few newsletters, a couple of us have been in the hospital recently. We're happy to report that Laura is now back in the office working regular-ish hours after giving birth to her son, Max.
Beth is also back in the office, after a speedy recovery from a terrifying bout of pneumonia. She has been told that she "looks the same," "looks normal," "looks like herself," and "looks great," all of which are true.
Construction progress
Wrapping up construction is the Bentonville House, in (you guessed it) Bentonville, VA.
In other news…
The drinking bird who sat at Zac's old desk had an untimely accident, and is no longer with us. RIP.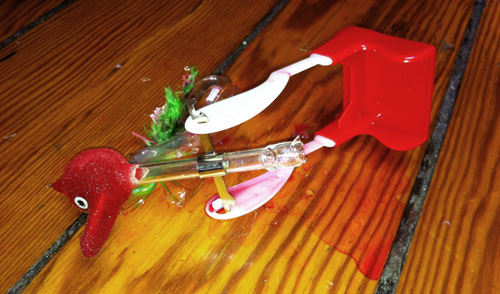 Mies Van Der Beak / Frank Lloyd Flight (Office perpetual bird) – shown here, deceased.