GOODNESS, WHAT HAVE WE BEEN UP TO?
Tuesday, June 18th, 2013
Shenandoah Valley Discovery Museum
From the SVDM website: "THE TRANSFORMATION BEGINS: EXPANDED CHILDREN'S MUSEUM PROMISES WONDER & DELIGHT." Construction starts at Shenandoah Valley Discovery Museum's new facility. General contractor Howard Shockey & Sons began construction work last week at 19 W. Cork Street, the new home of the museum located near the south end of Winchester's pedestrian mall. "This project will transform an existing office building into a vibrant downtown attraction," says Jeff Boehm, Vice President of Howard Shockey & Sons, the general contractor on the project.
Online Publications
Way back in the fall of last year (yes – it's been that long since you've heard from us…) we were interviewed by Josh McCullar for a feature article on his publication vaMODERN. One of our favorite quotes from the article: "Architecture is best when a sense of the unexpected is imbued within it." Check out the full article here.
We were also featured (a bit more recently) in Residential Architect and Builder Online's features on home libraries. You can access the articles using the following links: Residential Architect / Builder Online. Launch the slideshow to access the images.
Nathan and Laura's Houses!
Nathan and Laura have been keeping themselves busy off-the-clock with construction projects of their own. Nathan has been performing the duties of architect, general contractor, construction manager, and subcontractor of multiple fields (a "Nate-of-all-trades," if you will) in the renovation of an old house in downtown Winchester. It's official, "Natrification" is in full swing.
Laura just moved in to a custom home in downtown Purcellville that she designed for herself and her family. The 'GO House' is an efficient and well-constructed machine for Ours family living.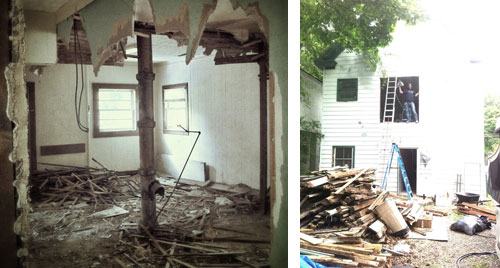 Nathan doing some demolition.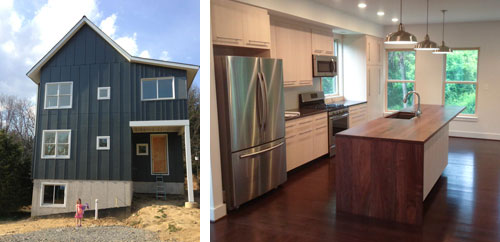 'GO House' Exterior / Interior – In Progress.
Linden Lane won a big award
While we weren't looking, one of our projects won a regional award. Builders KohlMark Group were awarded the 2013 Contractor of the Year (CotY) Grand Award (First Place) by the Metro DC Chapter of the National Association of the Remodeling Industry (NARI) for their work on the Linden Lane project. Take a look at a few images below, and click here to visit the project on our website.
Invenio Solutions; Frederick County, VA
Invenio Solutions has a new Virginia facility. In this project, we transformed a flex tech metal building into an innovative work space. The "big box" space remains open, with new, small office kiosks constructed within the open space's cubicle grid. A new spiral stair serves as a space for public address for group meetings. Translucent polycarbonate on the interior walls, and reflective foil faced panels on the ceiling, extend the natural daylight throughout the new space.