INTERNATIONAL FINANCE AND IMPOSSIBLE CUTENESS
August 14th, 2012
Loft Upon Cork Was Featured In The Wall Street Journal
On Friday, August 3rd, Loft Upon Cork was featured in The Home Front section of the Wall Street Journal. As is always the case, great projects require great clients, plus hard work from a lot of people. The entire office of Reader & Swartz contributed to the featured project, and it was beautifully built by Lodge Construction, Inc. The craftsmanship on this project was amazing, thanks to Todd Lodge, Earl Burroughs, Steve Chapman, Tom Nethers, David Parkinson, Willis Belford (all of Lodge Construction), and their many subcontractors. And, of course, we were working for an exceptional client: Dr. Peter Bullough.
You can experience the full story (the article, photos, and a video interview with the reporter, Candace Jackson) on the Wall Street Journal's link to the online version (here).
Finally, After Ten Years, We Now Have Swartzenreader Lighting
Das Swartzenreader Haus has seen some recent light fixture upgrades. For the previous ten years, the "temporary" fixtures were a composition of clip-on shop lights and flood lights that you would mount to the corner of a garage to spotlight raccoons. Among the enlightening additions are a gaggle of Ingo Maurer fixtures. The Aka Tsuki Sconce is mounted to a sheet of sanded Poplar Bark (www.barkhouse.com), and greets you as you ascend the steps to the main level. Maurer's Lacrime del Pescatore (translation: Tears of the Fisherman) hangs from the living room trusses. It's really magical at night, and provides just enough light to find the TV remote (not that people this cultured would watch TV). Lucellino, a winged goose feather fixture, winks at you in the entry foyer, and a paper lantern from Target is much funkier when outfitted with $4 blue bulbs from Lowe's.
Builder Magazine articles
Although it is apparently old news now, we were "recently" published twice in Hanley Wood's Builder Magazine. We had no idea we were featured until we were congratulated for these articles by a colleague at a party. Fortunately, both articles are still available online, and you can read them here and here, if you haven't already. Sorry for the late notice!
Preservation of Historic Winchester
If you are interested in getting an inside view of one of our historic renovation projects, Preservation of Historic Winchester, Inc. has been blogging about the recent progress on the Samuel Noakes House, located at the corner of Cork and Braddock. You can follow along here.
Architizer
A few of our projects are starting to show up on Architizer, an international architecture blog that features an all-encompassing range of work from around the globe. Our firm's page is here, and we are honored to be in such worldwide company.
New Employee in (Potty) Training
Maybe some of you know – our first "employee" was a golden retriever named Mabel, who lazed about office for years. Well, now there is a new dog in town…Charley, a soft-coated Wheaten terrier. Once Charley has completed her training, she will start working in the office on a part-time basis.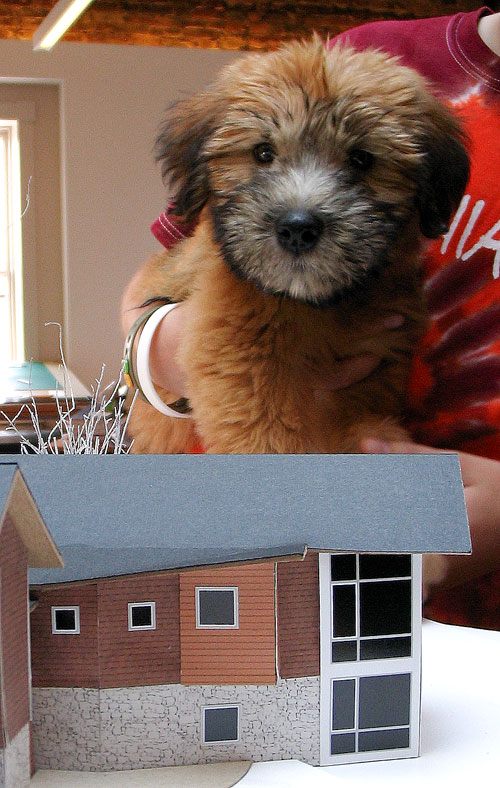 Charley, on her first office visit