Back by popular demand, the R&S Newsletter!
November 4th, 2015
Our Dog Can Fly!
This may be a shameless tactic to increase newsletter traffic, but just try to watch this video of "The Fuzzy Bullet" only once.  We dare you.
…and now on to some things that aren't necessarily dog-related
We're in a book!
"the new small house" by Katie Hutchison is now available on Amazon for purchase or directly through Taunton Press, Inc. The author/architect chose 24 small houses to explore and "The Samuel Noakes House" from Winchester, VA was selected. To see more images click here
Fairfax County Exceptional Design Awards Program Honor Award for "Linden Lane"
Linden Lane, located in Falls Church, has received the 2015 Fairfax County Exceptional Design Awards Honor Award. Located on a quiet street, lined with houses from the 1930s, and just a stone's throw away from major traffic arteries, this renovation and addition tries to respect the size and scale of the existing house and the architectural cadence of the street. For the full library of images click here
Grand Award – Remodeling Magazine Design Awards
The Shenandoah Valley Discovery Museum was given a Grand Award in this year's Remodeling Design Awards program. Videographers also came out to The Shenandoah Valley Discovery Museum to capture some of the spirit of this building with Jeff Boehm of Howard Shockey & Sons and our own Chuck Swartz. Click here to watch the video.
Detroit Rock (Rubble) City
This year's the Residential Architect Reinvention Conference was held in Detroit, the city of rock + roll/ rocks + rubble. Below are a few images from our sightseeing excursion in Detroit, as well as the architectural housing tour.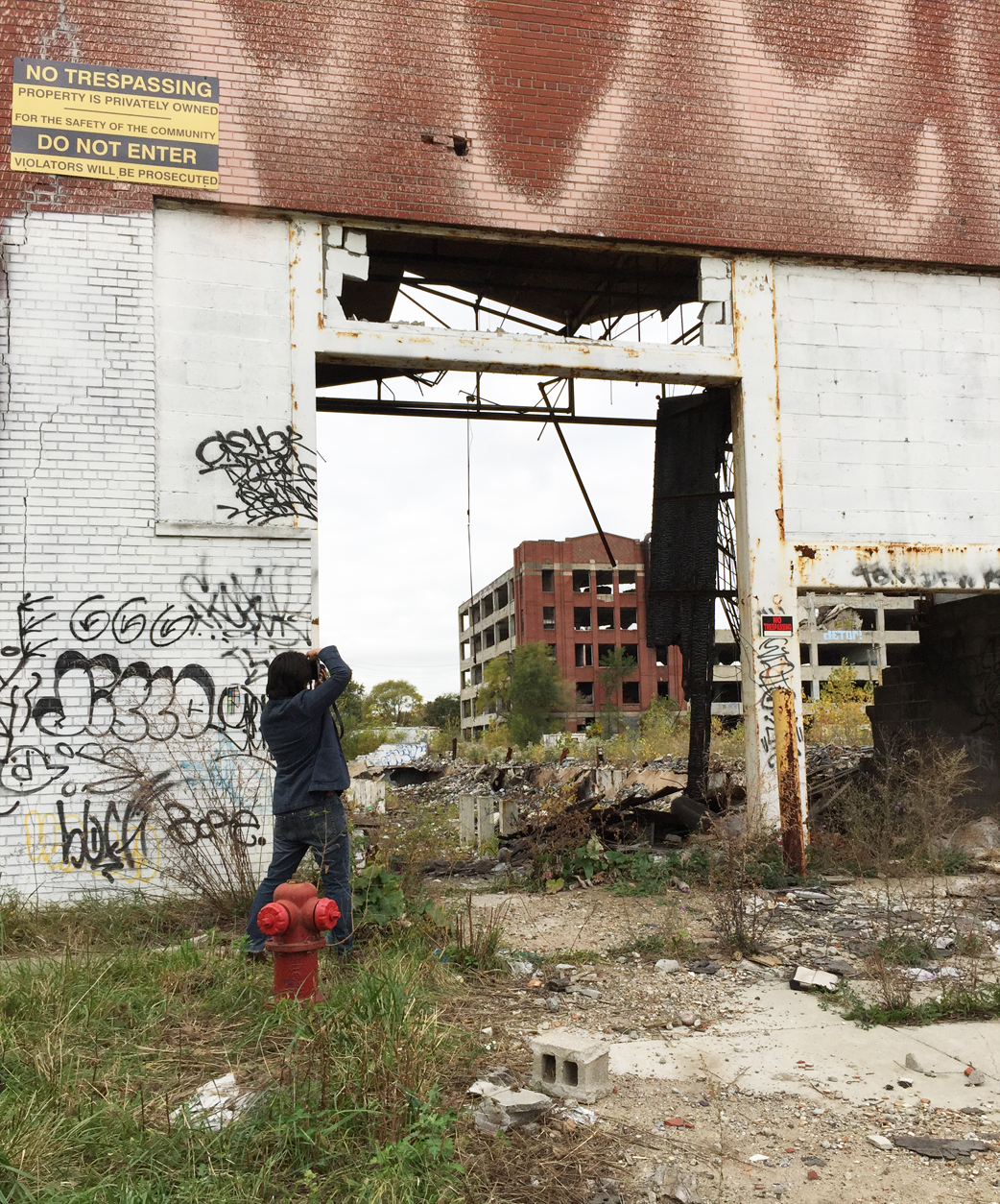 Beth Photographed Nate photographing the ruins of the Packard Plant designed by Albert Kahn Associates, and opened in 1903.
A visit to the Melvyn Maxwell Smith and Sara Stein Smith House designed by Frank Lloyd Wright. Light fixture designed by Wright (left) Chuck sitting on exceedingly long built-in couch in an exceedingly short space in his socks and cheap foam slippers (right)
A River, a View, and a Log 
Newly-completed and recently photographed "Camusrory" is a house located on the northern fork of the Shenandoah River. This project has "Metrobilly" written all over. It lives out in the woods with incredible views, bark and corrugated Corten siding, and cracked glass floors. A perfect place to sip your grande skinny no whip pumpkin spice latte before meeting the buddies for deer hunting. For more images click here.
That's it for our newsletter. Some dog, some architecture, some "wit".
Stay tuned for Newsletter #24. We will be revealing our winning entries in this year's AIA Virginia Design Awards!